Field Snapshots!
Time lapse of graduate student Jenna Ekwealor and her field assistant and husband Somi Ekwealor tending to experimental Syntrichia plots in the Sweeney Granite Mountains Desert Research Center.
---
Mojave Desert, NV
Monitoring Syntrichia caninervis microclimate and hydration time!
Research led by Theresa Clark, UNLV.
img_0110-1
---
Floristic Collecting of Syntrichia in N. America
Grand Staircase Escalante National Monument, UT
Moss hunting for Syntrichia in a land rich with biocrust and moss diversity hot spots!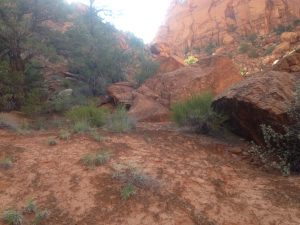 Theresa Clark and John Brinda have collected several species of Syntrichia in Grand Staircase Escalante National Monument. Moss hunting in these canyon lands requires extreme hiking and hunting for buffered (climatically protected) microhabitats!
---
Transplanted Biocrust Experiment, UT
The Bowker Lab (NAU) has an ongoing common garden project for biocrust communities that were transplanted from three sites in the field to foreign sites along an aridity gradient in Utah. This reciprocal transplant experiment will test if small climatic changes in stress exposure cause physiological responses in these biocrust organisms (Syntrichia included). Results will have implications for climate change impacts on these communities from similar degrees of increased environmental stress!
cristina-sampling-stems